Monday, January 24th, 2011
At my sister's behest, I've been scanning a large collection of old images from our family. And at this rate, I should have them done sometime in 2017, so, hey, that's progress. Came across a badly crinkled old black and white contact sheet from my stay in the fall of 1974 in New York's East Village (I returned some filmmaking equipment for some friends—on the Greyhound—and spent a while living by myself at their Crosby Street loft, which was then a new term to me.)
At any rate, here's one of the images:
And it didn't take more than 20 seconds of messing with Google Maps and Google Street View to line it up with the near-present: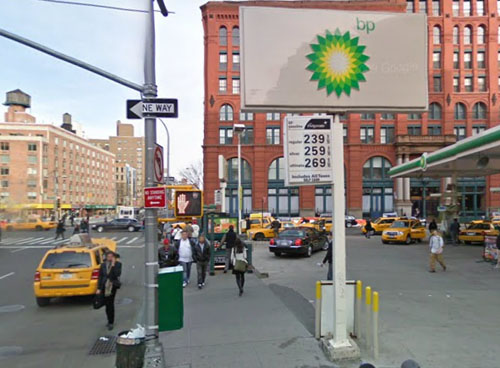 This is (and I didn't know this back in 1974, because my online search capabilities were a bit more limited then) a view toward the The Puck Building, which Wiki-p tells me is "an example of Romanesque Revival architecture", and during the 1980s was the home of Spy magazine, which I faithfully read, even though their use of tiny type surely led me to my squinty early adoption of reading glasses.
Back in 74, this rust-colored historic place housed a printing ink manufacturer, and in fact I remember the rich smells of toxic ink formulations that wafted down Houston from that fine Romanesque whatever-you-said-it-was architecture. And the smells mixed with the Gulf (hm, now BP) gas station to provide a wonderful urban bouquet in Abe Beame's New York City.
I'm hoping I can find the negatives from these long-ago pix in all of this mess, but these crinkly scans might have to do.